2020-12-29
More Generations Are Living Under One Roof This Year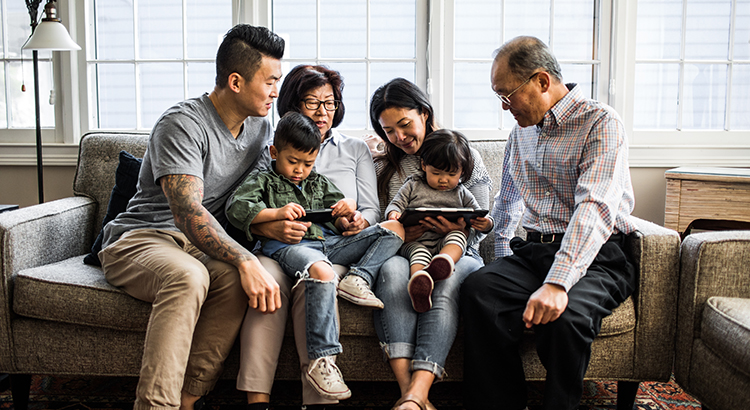 This year challenged us to reprioritize everything - from the way we use our time to where we work, how we socialize and gather together, and our needs at home. For many, this also meant making decisions about how to best support and engage with our extended families, near and far.
In some cases, we weren't able to see our relatives and loved ones who were living in senior facilities. In others, maybe older children moved back home. Jessica Lautz, Vice President of Demographics and Behavioral Insights for the National Association of Realtors (NAR), says:
"A lot of families have an aging senior relative who was living independently or in senior care and wanted to move them into their home."
These changes led more homebuyers to invest in multi-generational homes to accommodate more long-term plans. A multi-generational home, according to the 2020 Profile of Home Buyers and Sellers from NAR, is a home that has adult siblings, adult children over the age of 18, parents, and/or grandparents in the household.
A recent study from NAR shows that since the health crisis began, there's been an increase in purchasing trends for homes that cater to this dynamic:
"Buyers who purchased after March were more likely to purchase a multi-generational home at 15% compared to 11% who purchased before April."
There are many reasons for this uptick in preference toward multi-generational homes. The graph below shows the top two reasons and how they've increased this year: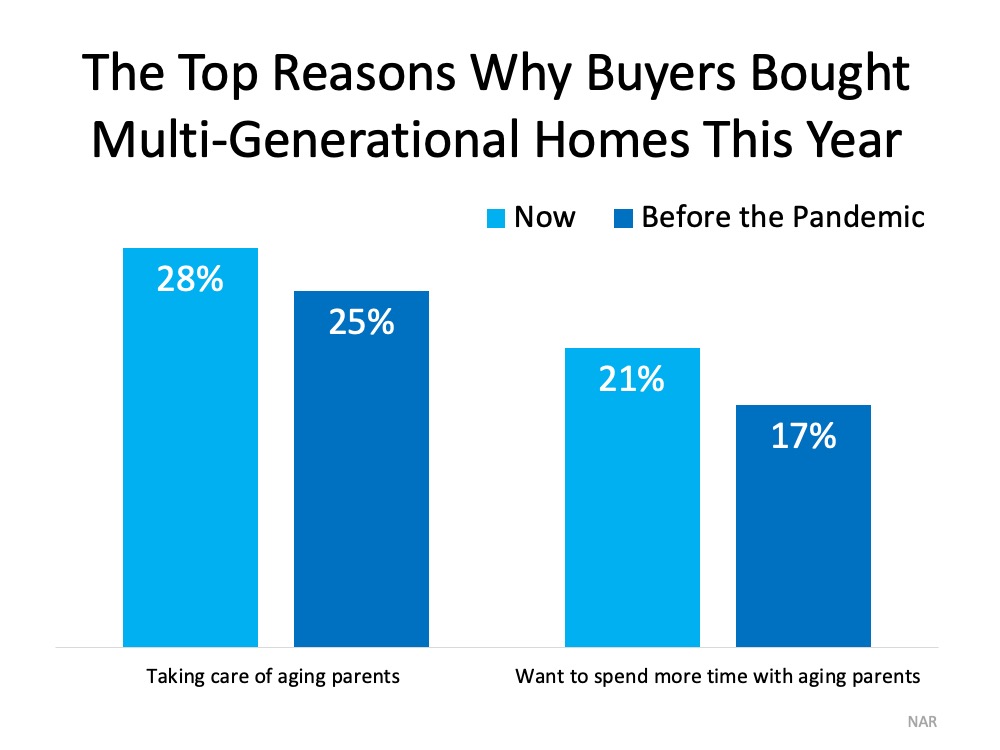 Bottom Line
More homeowners are making arrangements to accommodate their loved ones so they can safely take care of them at home. If you're in a similar situation, let's connect to discuss your options in our local area and maybe even have your whole family under one roof by early next year.

Subscribe to RSS Feed
Welcome to our Blog!
2021-01-13
Will Forbearance Plans Lead to a Tsunami of Foreclosures?
2021-01-10
Is This the Year to Sell My House
2020-12-29
More Generations Are Living Under One Roof This Year
2020-12-24
Turning a House into a Happy Home
2020-12-06
Lease With Option To Buy!
2020-11-24
Is Buying a Home Today a Good Financial Move?
2020-11-18
Chances of Another Foreclosure Crisis? "About Zero Percent."
2020-10-29
Do Not Fear the Real Estate Market
2020-10-28
Buyer Interest Is Growing among Younger Generations
2020-10-27
How Down Payment Assistance Opens the Door to Homeownership
2020-10-27
Things to Avoid After Applying for a Mortgage
2020-10-20
Americans Are Gaining Confidence in the Economy
2020-10-14
The #1 Reason Not to Wait to List Your House for Sale
2020-10-12
6 Reasons You'll Win by Selling with a Real Estate Agent This Fall
2020-09-30
Why Selling this Fall May Be Your Best Move
2020-09-24
Experts Forecast a V-Shaped Economic Recovery
2020-09-22
The Cost of a Home Is Far More Important than the Price
2020-09-09
The Latest Unemployment Rate Fell to 8.4%
2020-09-02
How Will the Presidential Election Impact Real Estate?
2020-08-25
Builders & Realtors Agree: Real Estate Is Back
2020-08-20
Forbearance Numbers Are Lower than Expected
2020-08-19
Just How Strong Is the Housing Recovery?
2020-08-18
Sellers Are Returning to the Housing Market
2020-08-17
The Beginning of an Economic Recovery
2020-08-13
Homes Are More Affordable Right Now Than They Have Been in Years
Click here to see ALL articles.